Sweden's best birding experiences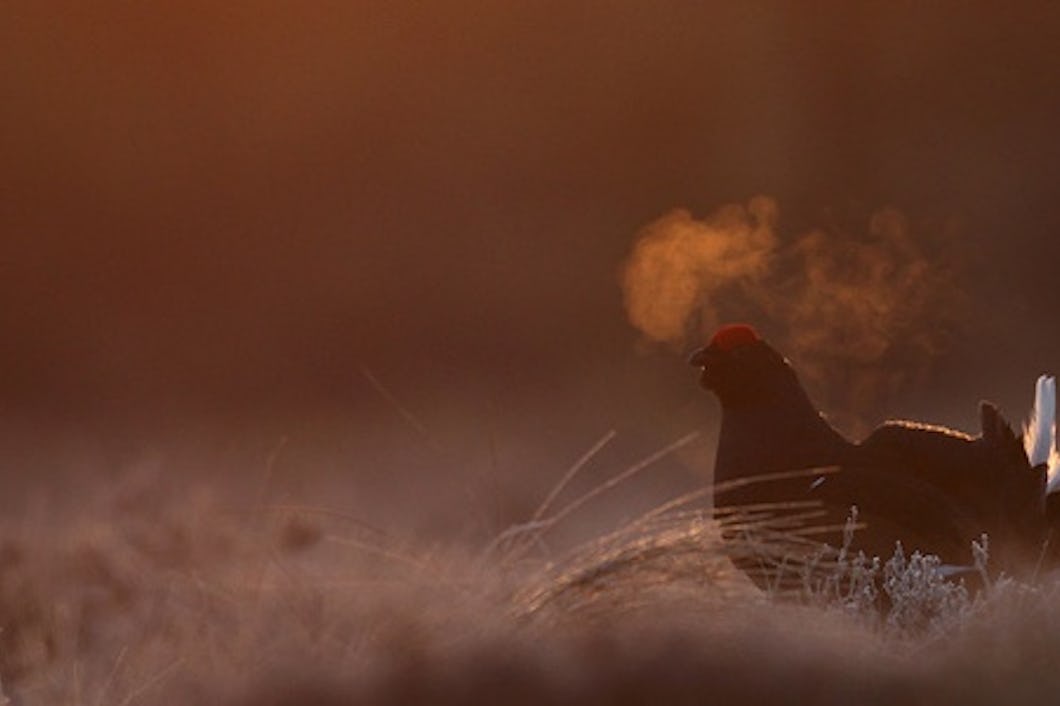 There are lots of fantastic birding experiences to be had in Sweden. Unforgettable moments can occur anywhere and at any time, but we try to guide you to some of the best the country has to offer when it comes to birdwatching.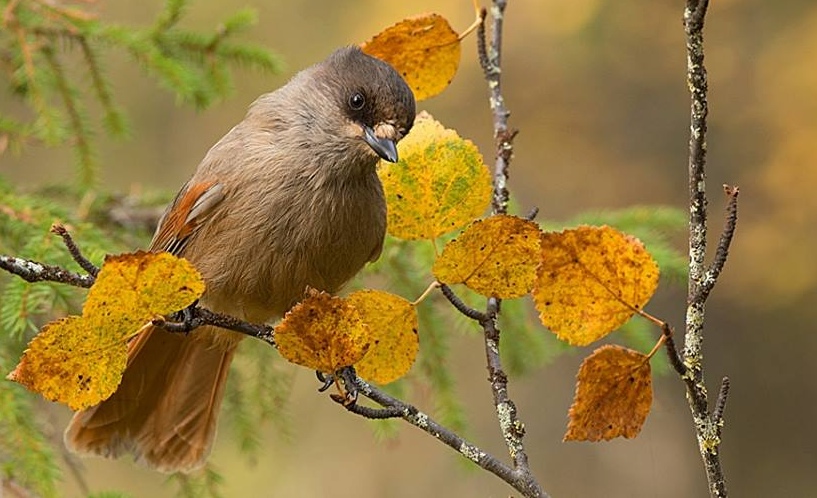 Siberian jay . Photo: Gunilla Falk
Close contact with the Siberian jay
What: Siberian jays are well known to show up by the camp fire to beg for a piece of sausage. You don't need to be a birdwatcher to appreciate seeing these beautiful, social birds at close range. Sometimes they even eat right from your hand.
Where: Various locations in northern Sweden. For example Fulufjället. Get in touch with the local ornithological societies.
When: Almost all year round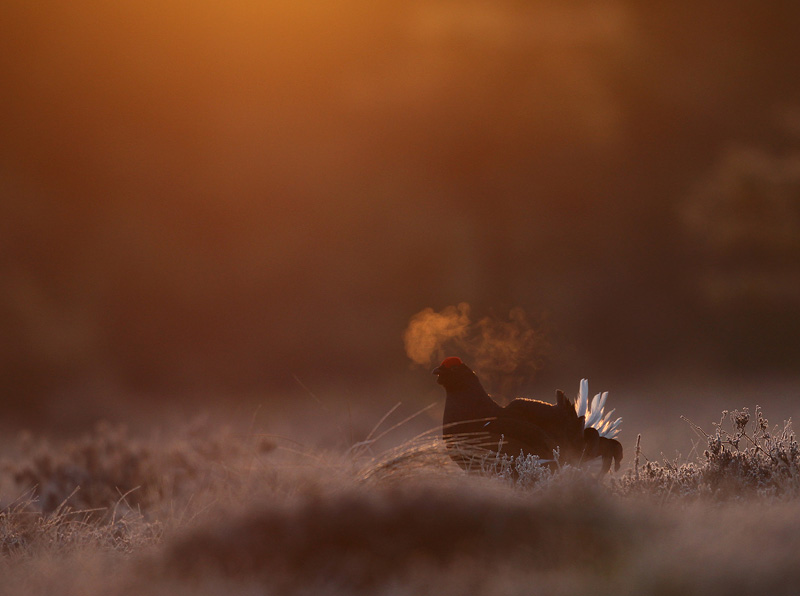 Black grouse. Photo: Johannes Rydström
Black grouse lek
What: To crawl into a hut at night and wake up to the black grouse bubbling sound and impressive spectacle at dawn is guaranteed to be a memory for life. It is not easy to find a good lek on your own, but several ecotourism companies organize and leases black grouse hides. These can be found in our section on ecotourism.
Where: Deep forests around Sweden
When: March to May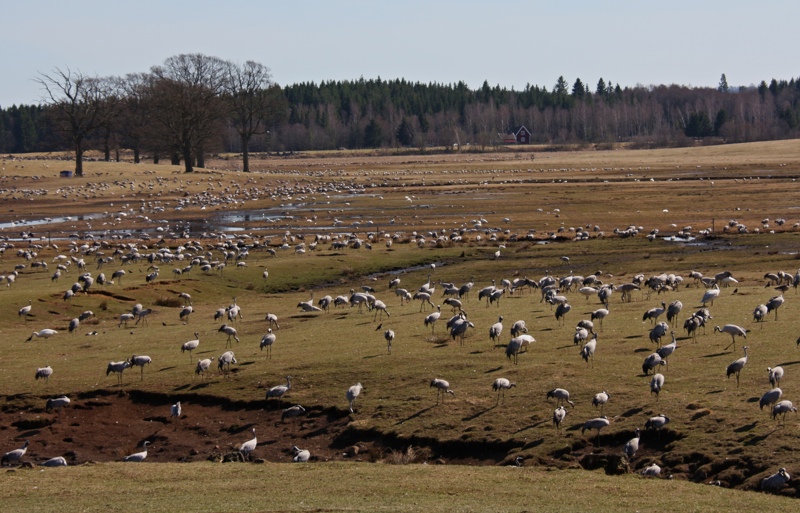 Cranes at Hornborgasjön . Photo: Erik Hansson
The cranes at Hornborgasjön
What: Nearly 20 000 cranes gather on spring migration at Hornborgasjön and can be seen at luxurious close distance at "Trandansen". It is one of Sweden's most famous wildlife experiences and it's easy to understand why. At Trandansen you can also rent a small hut to sit in during daylight hours to experience the cranes at close range.
Where: Hornborgasjön, but also Kvismaren in September and October.
When: Late March to mid-April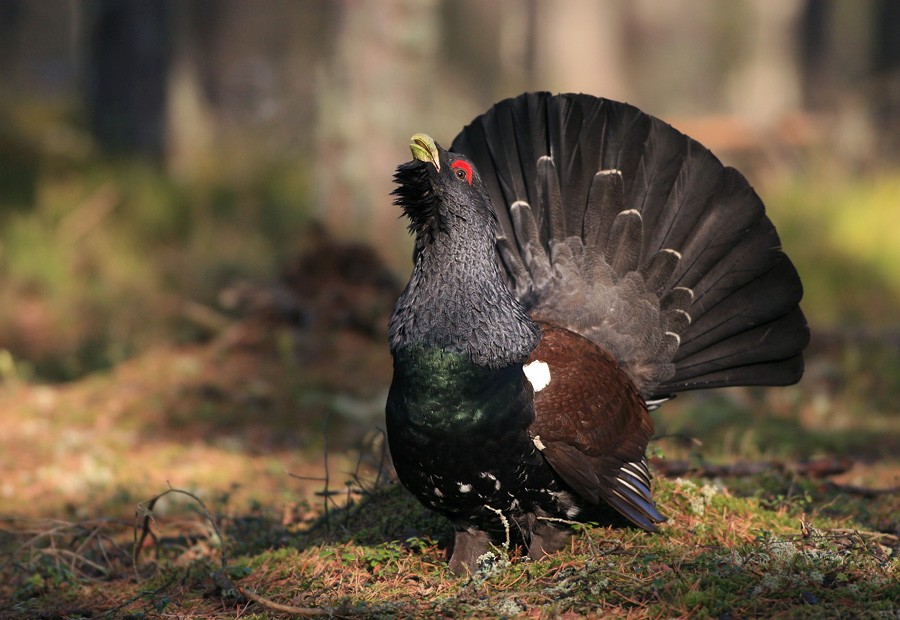 Western Capercaillie . Photo: Daniel Pettersson
Western Capercaillie lek
What: The mighty Capercaillies splendid lek is something quite unique. It's easy to understand why the hens are impressed. As with the black grouse they require an overnight stay and a day in a hut in the forest and they are not easy to find yourself. Here is a list of eco-tourism company that organizes Capercaillie hides.
Where: Deep forests around Sweden
When: April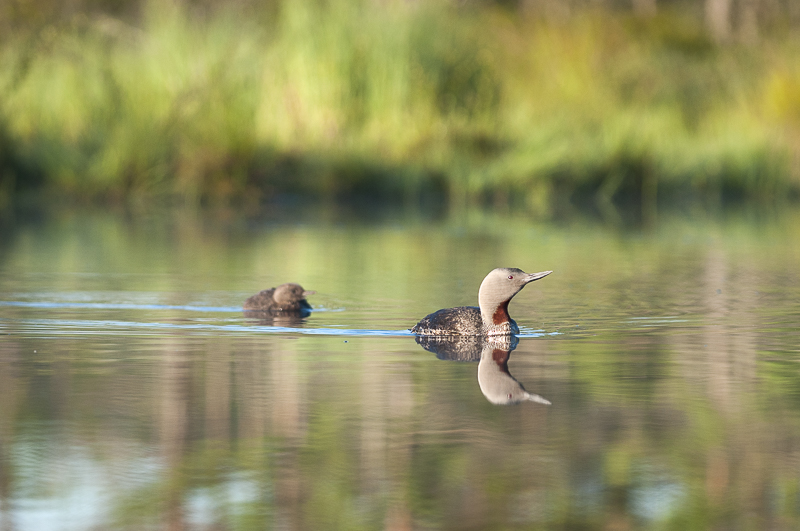 Red-throated Loon with a chick at Knuthöjdsmossen. Photo: Cecilia Rudengren
Red-throated Loons at Knuthöjdsmossen
What: Knuthöjdsmossen consists of many small lakes in a very beautiful landscape. It's even more beatuiful when the Loons illuminates the ponds with their beautiful red throats. Just bare in mind that it is forbidden to leave the footbridge between April 1 and July 15! The Red-throated Loons can easily be disturbed and we have to take care of this great bird experience.
Where: Knuthöjdsmossen in Vastmanland
When: April-May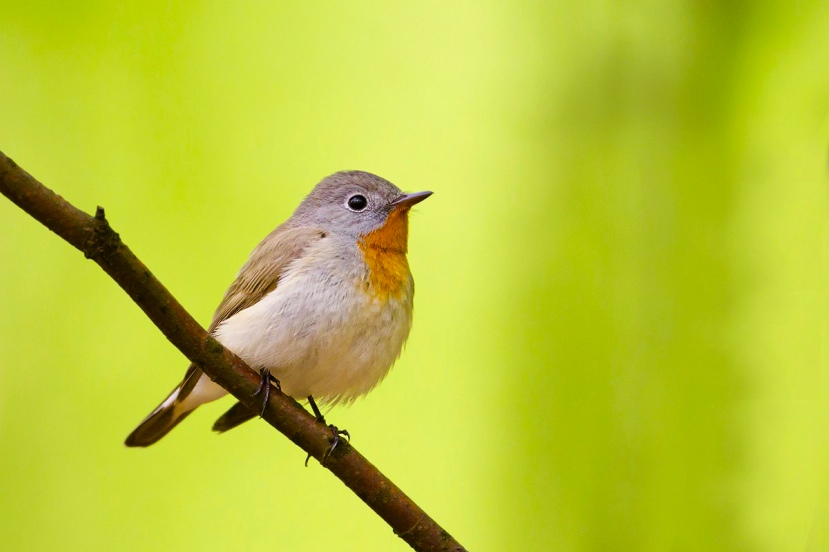 Red-breasted Flycatcher. A classic bird at Ottenby. Photo: Daniel Pettersson
Öland in May
What: It is no coincidence that many birders add a holiday week in May. The Swedish nature explodes of life and the birds are visible everywhere you look. The island Öland in May is hard to beat and it is a truly special experience to live in a few square kilometers that for a few weeks is populated by hundreds, if not thousands of birdwatchers. No wonder there is usually found a lot of rare birds during this period.
Where: Southern Öland near Ottenby at the Swedish east coast.
When: May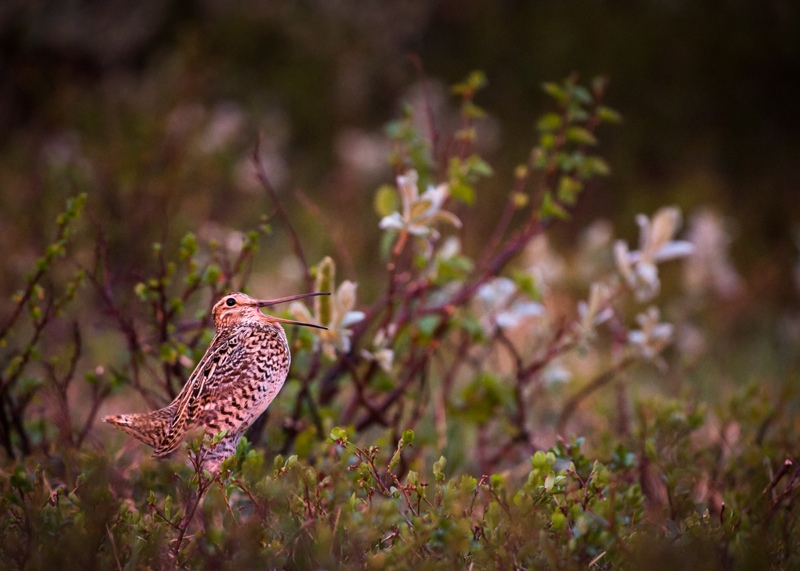 Lekking Great Snipe. Photo: Marie Mattsson
Great Snipe lek
What: Maybe not quite as spectacular as Grouse- or Capercaillie lek, but much easier to see if you know the venues since the Great snipe are not that shy. Being on a marsh at dusk in the Swedish mountains with 10-20 Great Snipes in front of you jumping, stretching their chests and spreading their tail feathers is something all nature lovers should experience.
Where: Marshes in the Swedish mountains from Härjedalen to Lapland. For example at Ånnsjön .
When: May and June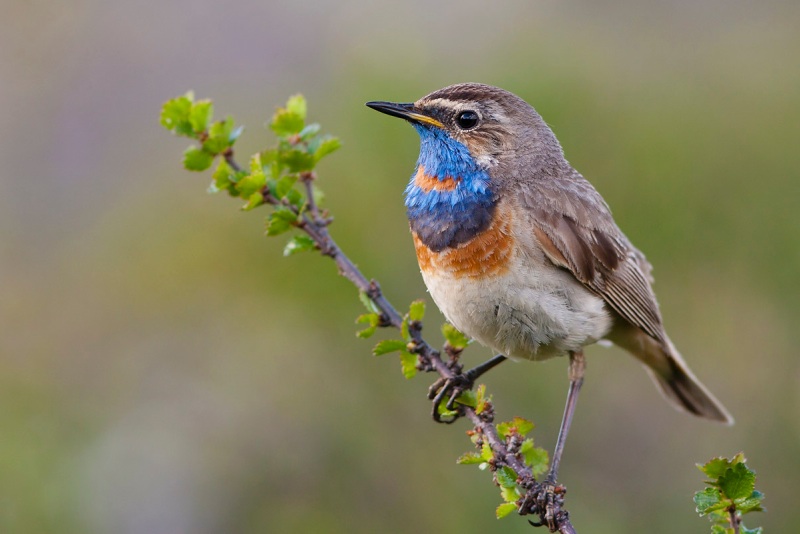 Bluethroat in Abisko. Photo: Daniel Pettersson
The Swedish mountains
What: Singing Bluethroats and Lapland Longspurs in the bushes, desolate crying Dotterel, Ptarmigans hiding in the heather, graceful Skua passing above and the beautiful Red-necked Phalarope swimming around in the mountain lakes – the Swedish mountains in the summer is a truly fantastic birding experience.
Where: For example Ånnsjön, Abisko, Fulufjället funäsdalen / Flatruet, Ammarnas and Stekenjokk .
When: June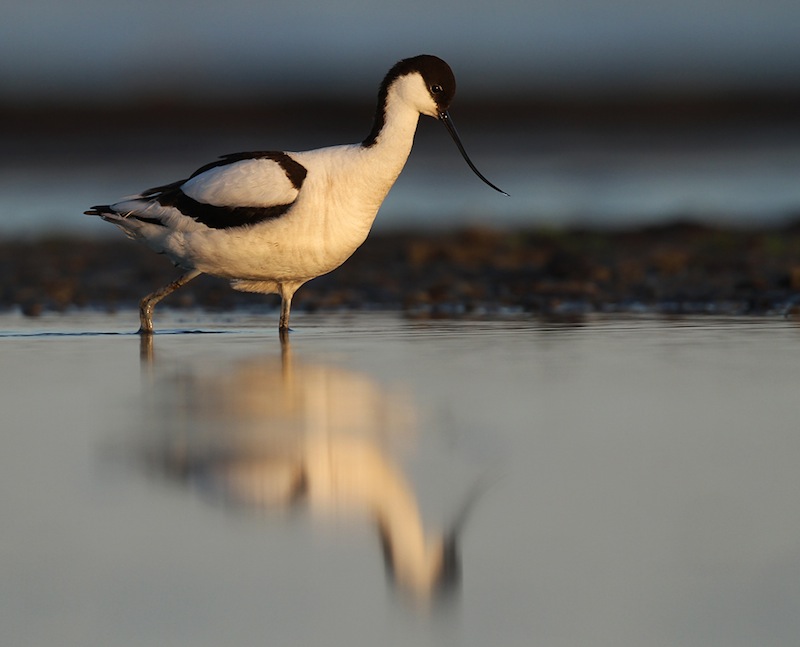 Avocet, one of the species that can be seen along the beaches in late summer. Photo: Johannes Rydström
Flocks of shorebirds heading south
What: As early as June the first waders start their migration south, but in the late summer huge amounts of Dunlins, Plovers, Ruffs, Redshanks and Wood Sandpipers stay for a while to find food in the shorelines. To see these charming birds in large flocks is for many birdwatchers one of the year's highlights.
Where: Southern Öland (Beijershamn, Sebybadet) and Gotland (Västergarn, Stockviken and Närsholmen).
When: From late July to early September.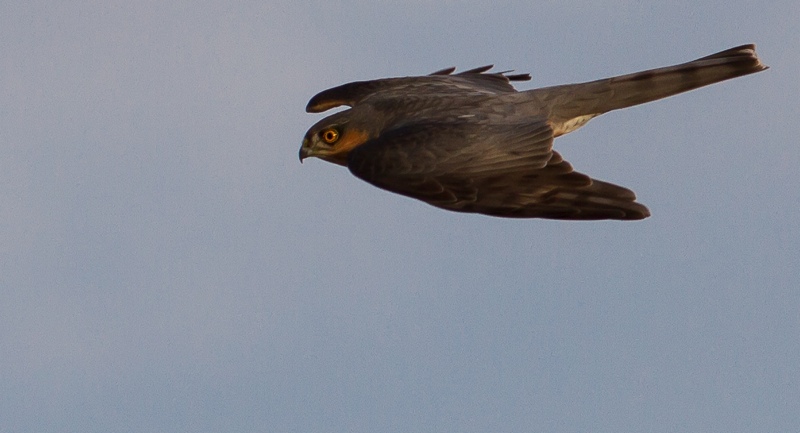 Falsterbo is probably the best place in the world to see migrating Sparrow hawks. Photo: Erik Hansson
Birds migrating at Falsterbo
What: During the fall millions of birds pass Falsterbo on its way south – both rarities and common species. It is not unusual to see hundreds or thousands of birds of prey and more than 100 000 pigeons leave the country on a single autumn day. Watching the bird migration can be done in several parts of the country, but Falsterbo is the most well-known and generally best place.
Where: Falsterbo in Skåne, but also for example Revsudden, Simrishamn Busör or Sebybadet (Öland).
When: From mid-August to late October.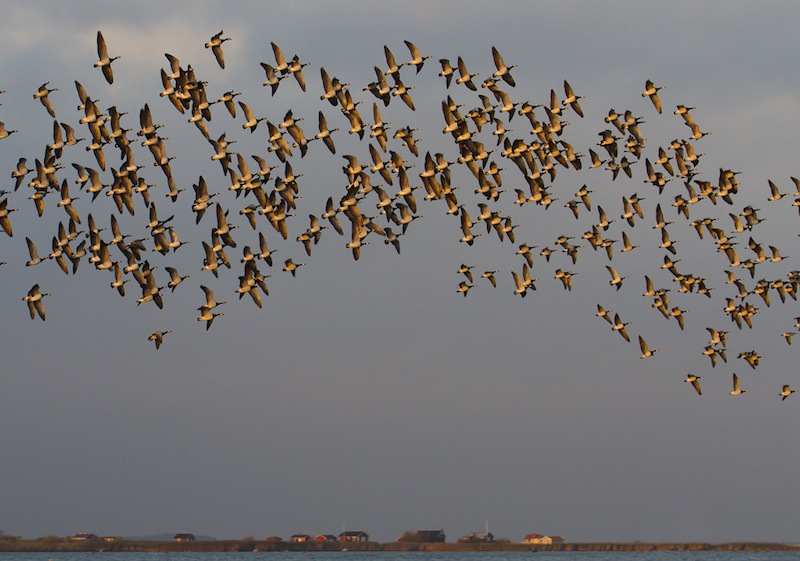 Flock of Barnacle Geese. Photo: Johannes Rydström
Flocks of geese at fall
What: Every autumn, tens of thousands of geese are gathering at several locations around the country. It is a great experience to see a White-tailed eagle sweep down across the lake and get all the geese to lift in a deafening cackle. Watch a movie from Hjälstaviken here. This also applies to the large amounts of whooper swans gathering in Tysslingen outside the city of Örebro.
Where: For example Kvismaren, Hjälstaviken, Takern and Hornborgasjön, but also on Gotland's and Öland's eastern and southern coasts.
When: Late August to late October
Thanks to Johannes Rydström, Daniel Pettersson, Marie Mattsson and Anki Hammar for comments.